Asadis courses are easy to follow. They have been developed in collaboration with mental health experts to give you the most up-to-date information that is most useful to your clinical practice. From start to finish, they have been designed to make distance learning easy and enjoyable.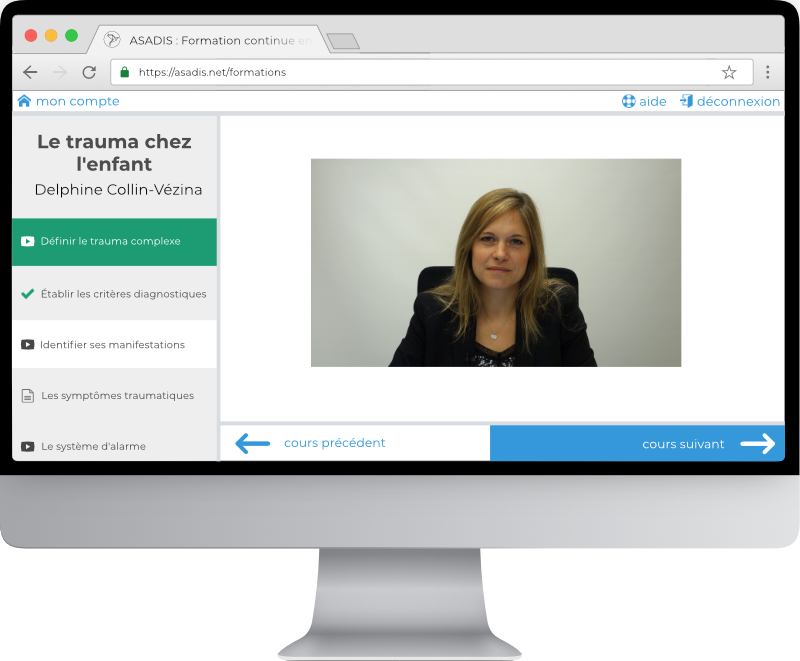 What is an online training from Asadis?
Designed specifically for you. Our trainings put you at the center: they have been designed in such way to be viewed online and to improve learning.
High quality content. Quality online courses start with quality content. Our continuing education consists of videos that are recorded in studio conditions, that are then processed by our technicians that make it so our experts truly speak to you. Each course has a series of chapters with videos of a few minutes long so that you can easily navigate through the content without getting losing focus.
A simple platform. These videos are accessible in-site which makes it easy to navigate through the course plan. No more endless videos!
At your own pace. Nos formations sont conçues pour que vous puissiez travailler au sujet qui vous intéresse à votre rythme et sans avoir à y consacrer plusieurs heures d'affilée. Il est toujours simple de se plonger dans les contenus qui sont clairs et bien organisés. Vous pouvez accéder à votre formation quand vous le voulez, où vous le voulez ! Vous pouvez aussi facilement la reprendre où vous aviez arrêté !
Accréditation. Our training courses are accredited with various organizations, such as L'Ordre des psychologues du Québec, the Order of Social Workers, Family, and Marriage Therapists of Quebec, or the Canadian Counseling and Psychotherapy Association.
The steps
1. Choose your course. All the information you may need is listed on our website: duration, prerequisites, accreditation, cost ... If you have a question, we are here to answer it (contact@asadis.net)
2. Register online. Each course has its own registration form. If you have not already registered with us, we will ask for your email address, billing address, payment details and the date you wish to start the course. Once this form is completed, you are automatically redirected to our training platform and can start learning immediately.
3. During Asadis training, you have unlimited access to content. You can watch the videos as many times as you want and in the order you want. You can access your account from any computer and from any location. You can also stop a training and repeat it at the same place you left you want.
4. When you have completed the course, you then take the final evaluation which is made up of several multiple-choice questions. If you pass it, you will be able to download the certificate of completion.
Our platform
We have designed ourselves a simple and pleasant training platform. The ergonomics are intuitive, not to mention the speed ... It is very easy to navigate through the different chapters, to start and resume your training instantly. The interface clearly shows you whether a course is starting, in progress or finished.